BIO
Marisa Caichiolo is an artist and curator who studied art history and curatorial studies, she holds a PhD in art history and psychology.
Her research focuses primarily on the impact on social and political changes in society. She focuses on cultural exchanges researching cultural production fluctuating between theory and practice.
Her curatorial projects have been shown internationally, including MUSA Museum of Arts of the University of Guadalajara(Mexico); Kirchner Cultural Center, Buenos Aires, (Argentina); DOX Center for ContemporaryArts, Prague (Czech Republic); Frost Science Museum, Miami (USA); PVAC PalosVerdes Art Center, Palos Verdes (California); Building Bridges Art Foundation,Los Angeles (California); KATARA Cultural Center, Doha (Qatar); Sharjah Museum of Contemporary Art, Dubai (United Arab Emirates); Anaheim Muzeo Museum andCultural Center, Anaheim (California); Telefónica Art Foundation, Santiago(Chile); among others.
She is the founder of Building Bridges International Art Foundation an international non-profit organization based in SantaMonica, Los Angeles County. The foundation is conceived to be a platform forcritical thinking, and researching; local and international programs in LosAngeles; art residencies; and education programs among others.
She was part of the curatorial team forseveral international biennials, such as the Casablanca Biennale, Morocco;Sharjah Biennale, Sharjah, United Arab Emirates; Biennial of the Americas,Denver, Colorado; among others. She is also an active board member for BugattiFoundation, Italy; Now Art LA, Los Angeles; and the Advisory Board of the DAPProgram at The Broad, Los Angeles.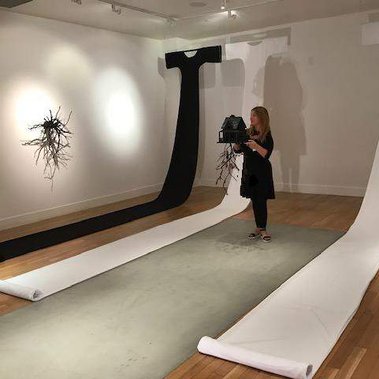 STATEMENT
Overthe last twenty years, regardless of its variations, my work has focused onreflecting about the skin. Skin as a metaphor, as a shield, as a mediatingelement and a support for a nomadicidentity, always changing, always expectant, exposed to interacting withothers and the construction of my feminineand feminist self.
Frommy perspective as a displaced woman-artist-curator, skin is that layer, thatblanket, that barrier (always permeable), which separates our inner world fromthe outer realm and its harshness. At the starting point, I use skin as asymbol, as a narrative structure, later transforming it into a medium andconceptual support. It is from there, from that place, that I approach topicsbeyond the basic notions of biology and cognition in order to reach reflectionsof another scope, leaning more into social and political themes. I am particularlyinterested in power relations: their discursive-linguistic instrumentation and theirpotential for the diminishment and deconstruction of dominant orders.
Thisquest has led me to explore new paths, environments and subversive strategiesassociated with insurrection, without ever jeopardizing my artwork's hedonisticnature and aesthetic dimension. During this process, I have incorporated theuse of different materials into artistic practice, as I find them moremalleable to transport the pieces. Time has also borne witness to my work'smetamorphosis, which has acquired a certain levity in terms of materials,thickness and volume, but also has become more intense and critical from aconceptual point of view.
Inthe explorative phrase of my latest series "How else can I serveyou?", I was immersed in an intense conversation with myself. In theseries, skin thickens until it forms a callus and turns into metal and silverobjects. Subsequently, I make the metal burst open in a very sensual or sexualway, and transform it into something permeable and fragile to create an organicshock with the use of my own hair through embroidery (a practice that I feelvery attached to since my grandmother's death).
Thisis where my critical commentary comes in, denouncing hidden violence, abuse andimmigration as narratives of the ceaseless dominance and vexation that have ledwomen to spaces of silence and forced subjugation. I confess that, in myprofessional evolution, I have developed a great predilection for artisticresidencies as the main platforms for developing artistic projects. I firmlybelieve that the creation process should not be carried out from a closed-upstudio. Instead, we should establish connections with what happens in otherparts around the globe, fostering interaction and growth, which can onlyflourish from contact with other people and cultures.
Inrecent years, exhibitions of my work have always been under the gaze andsupervision of curators and I have participated in solo exhibitions and small groupshowings, always under 10 artists. I have recently exhibited in China; in LosAngeles for the PST Getty under the curatorship of Isabel Roja Williams; and inFoto España, Madrid,under the curatorshipof AndrésIsaac Santana.Also at the OscarNiemeyer Museumduring Brazil'sCuritiba Biennial,curated by Gabriela Urtiaga;at the ThousandOaks Museum under the curatorship of Lynn Farrand; at Ecuador's Museum ofModern Art in Cuenca under the curatorship of Dermis Leon; and in Italy at theVimercate Museum curated by Martina Corgnati from the Brera Academi Milano;among others.
Whendiscussing my career, I prefer to talk about fixations and obsessions. If Idetect any personal obsession, I try to observe and analyze it from anobjective perspective, because I often have a bipolar attitude when it comes toseparating my curatorial practice from my artistic practice. In fact, I neverincorporate my own work into any project when I am involved as curator.
AWARDS
2019- Arts Patron & Building Bridge Award - Santa Monica Arts Award - Senate USA/ Sanator Ben Allen - 26th District - Santa Monica - CA
2019- Arts Patron Award - Santa Monica Arts Leadership Award - Santa Monica Foundation - Santa Monica - CA
2014- Selected best work - Qindao Biennial - Qindao -China
2011- Mention best installaition - Reconsidering Earth - National Gallery - Jackarta - Indonesia
2009 - Selected by David Pagel - Los Angeles Times Prize – 825 Gallery
2008 - Selected by the International Olympic committee to be part of the permanent collection of the Museum FineArts- Beijing - China

1997 - Selected Young artists prize- Palace de Glaze- Buenos Aires- Argentina
1996 - Second Prize -Young artists - Klein Foundation - Argentina
PERMANENT COLLECTIONS MUSEUMS & CULTURAL CENTERS
Italy - Bugatti Foundaition & Fundazione Rossi
Italy - Private Collection curated by Martina Corgnati from Academy Brera, Milano.
Chile - AAL - Arte Al Limite Private Collection.
China - OFFA museum of Olympic Fine Arts India-tagore Cultural Center.
China - Qindao Museum of Contemporary Art.
India - Tagore Cultural Center - Kolkata.
Los Angeles - Kashfian Private Collection.
Los Angeles - Japanese Cultural Center.


SELECTED EXHIBITIONS
2020 - Ecuador - Museum of Modern Art of Cuenca curated by Dermis Leon / Trouble Diaries / Installation No more Blood ....
2019 - Italy - Museum Vimercate - Women photographers exhibition - curated by Martina Corgnati from Academy Brera / Underneath the Skin
2019-Brazil - Oscar Niemeyer Museum- Curitiba International Biennial of Contemporary Art curated by Gabriela Urtiaga - Installation How Else can I serve you?
2019- California - California Museum of Art Thousand Oaks - EMPATHY - curated by Lynn Farrand - installation / The House
2019- Spain - Ateneo Madrid / Photo Spain / Social Subjetiva curated by Andres Issac Santana. Installation / How Else Can I serve you ?
2018- China - Wuhan Cultural Center - Trouble Diaries - Curated by Dermis Leon
2017- Italy - Bugatti Foundation (Solo Exhibition) - The Skin a Land of Discovery
2017- Los Angeles - PST Getty Official Exhibition THE SKIN two women show - BG Gallery
2017- Los Angeles - PST Getty Official Exhibition curated by Isabel Roja Williams - Installation How else can I serve you?
2016- Bangladesh – Bangladesh Biennial – Installation / No more Blood ...
2016- Cuba Museum of Holguin – Intervention – Installation / curated by Dermis Leon
2015-Los Angeles- The Loft at Liz's– No more Blood – Installation & Performance curated by Liz Gordon
2014- Italy – Heart Cultural Center- Solo Exhibition Underneath the skin, Emptiness curated by Dermis Leon
2014- China - Qindao Biennale – Video Installation / Parallel Realities
2013/14- EUA- Sharjah/Dubai Sharjah Museum of Contemporary Art / Exhibition/ Islamic Festival- Parallel Realities (Solo exhibition) curated by Mohamed Abou Elnaga

2013-China, Jintang, Contemporary Museum of Baosheng Garden, Mount Mao.
2012- Mexico-CEARTE- Center of the Arts - Water (Performance Festival) -Presentation performance and video art.
2011- India - Tagore Cultural Center, Hommenage to Tagore.

2011- Qatar , Katara Cultural Center, Dialogue curated by Mohamed Abou Elnaga
2010- May- SARAJEVO- OFAA- Olympic Fine Art Exhibition
2009- August-PENANG, MALASYA- Cultural Center, City Hall, Penang.
2009- May-July-MEXICO- CEARTE-BUILDIG BRIDGES-Cultural Center/Museum Mexicali
2009- April-USA- Los Angeles-The Loft at Liz Contemporary Art Gallery (3 women show)
2009- February -MEXICO-ICBC-Cultural Institute of Baja California- Tijuana
2008-USA-Los Angeles -Gallery 825-Selected work by David Pagel/LA TIMES Art Critic as an emerging artists 2008.
2008-MEXICO- CEARTE-BUILDIG BRIDGES-Cultural Center/Museum,Ensenada.
2008-China-Beijing-Selected for The Olympic Fine Art Exhibition. (Award)
2007-FRANCE-Paris- ART IN CAPITAL -Grand Palais des Arts.
2007-FRANCE-Paris-INTERNATIONAL ART SHOW, Atelier Grognard (Napoleon Bonaparte Castle)
2007-ARGENTINA- Rosario-International Artist Selection, travel Show.Rosa Galisteo Museum.
2006-USA-Los Angeles- Private Show – Collectors Lorna Ausbach's House Pacific Palisades.
2006-MEXICO-Tijuana- Gallery 256-(Four artist Show)
2005-Los Angeles - Latino Art Museum - Two Artists show. (Latina Images by Latinos)
2005-Mexico- Ensenada-Museo Historico., Group Show.(International artists)

2005-Mexico-Tijuana-Gallery 256 –Group Show-International Artists
2004-Las Vegas –Museum of History of Nevada- Group Show. (Mujeres de Juarez)
2004-Los Angeles—Self Help Graphic Gallery- Group Show.
2004-Los Angeles-Expresso Mi Cultura-Women in the Arts.
2004-Mexico- Guanajuato -Cultural Center..FIAC Festival Contemporaneo de Arte Solo Show)
2003-Los Angeles-Klasky Csupo Gallery. (Solo Show)
2003-Los Angeles- Japanesse Cultural Center.
2003-Japan- Modern Art Museum of Nagasaki. (EXHIBITION OF PEACE)
2003-Mexico-Guanajuato –Frida Khalo Gallery-Group Show.
2003-Mexico-Cultural Center of Leon Guanajuato-Group Show
2002-Los Angeles- Japanesse Cultural Center.
2002-New york - Montserrat Gallery. (Solo show)
2002-Los Angeles- Forest Lawn Museum.
2001-New York- Montserrat Gallery
2000-New York- Montserrat Gallery.
Argentina- Recoleta Cultural Center.
Argentina- Armenian Cultural Center.
Argentina-Leonardo Avalos Gallery
Argentina - Federico Klemm Foundation (Award)